The weekend is for looking at stuff online that you can't look at when you're at work, didn't you know?
***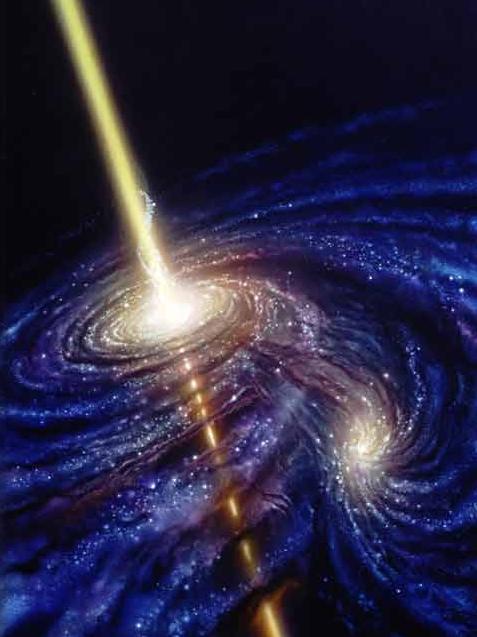 NYTimes has an
article
in the science section this weekend about how some evil geniuses made a machine that could create a black hole that would do whatever it is that black holes do to planets. No biggie.
Walter L. Wagner and Luis Sancho contend that scientists at the European Center for Nuclear Research, or CERN, have played down the chances that the collider could produce, among other horrors, a tiny black hole, which, they say, could eat the Earth. Or it could spit out something called a "strangelet" that would convert our planet to a shrunken dense dead lump of something called "strange matter." Their suit also says CERN has failed to provide an environmental impact statement as required under the National Environmental Policy Act.
***
There's also a piece in the NYT City section (what, JA isn't good enough for the Styles?) called
Channeling Carrie
that spends a good portion of time talking about Julia Allison:
Ms. Allison knows the adventures and misadventures of Carrie & Company by heart, and she uses them as something of a road map for her own life.
Julia
"quit"
her blog on March 6th, saying: "I'm done. I can't do this anymore. It's ruining my life." (Her blog has been updated 17 times since then, but always timidly and apologetically.) Anyway, receiving press in the Times is probably just the sort if gentle cooing she needs to get back in the blogging game.
***
I love the idea for Paul Ford's
Six-word Reviews of 763 SXSW MP3S
. It's a really handy guide and can be used in a number of ways.
1. Go through the list and see how many songs are by people you've actually heard of:
Martha Wainwright: Great, commercial-proof lonely woman lament.
2. Go through the list and see how many bands are from Boston--cringe at bad song reviews.
Neptune: Sounds more like your Uranus! LOL JK.
3. Go through the list and check out songs that got a good rating by clicking on convenient link:
Mittens on Strings: This song could date my sister.
4. Read pithy obervations dispersed throughout:
SOMETHING ELSE I GLEANED

Many people don't write songs for an audience. They write songs for Gray's Anatomy, for Zach Braff, and for Apple advertisements (Volkswagen if they're not ambitious). If I was in a band I would write a slow song with an 808, reverb, and a female vocalist, and call that song "Zach Braff's Eyes Reflected in My Nano." I would make sure it got to the right people. By which I mean Zach Braff, or one of the leechlike marketing creatures that feed from the skin of Steve Jobs under his mock turtleneck.
[Ed. Note: "Zach Braff's Eyes Reflected in My Nano"--ha ha ha.]
5. Get mad in a "Hey, I've been saying that for the past three months, but wasn't clever enough to write it down" way:
IMPORTANT LYRIC

"So there's a broken mirror on my bed. I'll clean it up. So what? You don't have to be such an asshole all the time. Awwww, don't be like that. Ha ha. (Hic.) Whooooo, ooo ooo oo oo, a uh uh oh oh oh." —The Virgins, Rich Girls.
***
Two useful music links:
Muxtape
allows you to make your own mixtape and share it, or just listen to other people's.
Pandora
lets you create your own radio station. You put in bands you like and it plays those bands and other bands that sound like those bands. I listened to it all day long at work the other day after putting in about five artists' names. Awesome.
***
These College Humor
Prank War videos
aren't new, but I just discovered them. If you watch just one, I would suggest Prank War 5: Amir's Big Break (with Human Giant). They are all so so painful (in fact they're so over the top mean that I half question their authenticity). Happy Schadenfreude Sunday!